CNI Fall 2022 Membership Meeting
December 12-13, 2022
JW Marriott Hotel, Washington, DC
#CNI22f
---
Opening Plenary: Key Developments and Plans in the Networked Information World: A CNI Perspective
Clifford Lynch
Monday, Dec. 12, 1:00–2:15 pm ET
CNI Executive Director Clifford Lynch will begin his plenary with a survey of some recent key developments and trends in the networked information and research landscapes. With this as context, he will discuss the evolution of CNI's programs and strategies as we have transited the pandemic and plan for the future, share a working draft of a new set of organizing themes for our programmatic work, and talk briefly about initiatives for program year 2022-2023 and beyond. There will be time for questions and discussion.
About the Speaker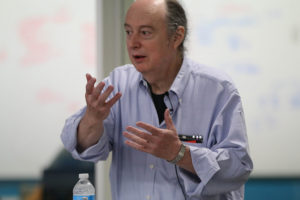 Clifford Lynch is Executive Director at the Coalition for Networked Information. He is both a past president and recipient of the Award of Merit of the American Society for Information Science (now ASIS&T), and a fellow of the American Association for the Advancement of Science and the National Information Standards Organization. His work has been recognized by the American Library Association's Lippincott Award, the EDUCAUSE Leadership Award in Public Policy and Practice, and the American Society for Engineering Education's Homer Bernhardt Award. In 2017, Lynch was selected as an Association for Computing Machinery (ACM) Fellow. More about Lynch, including links to publications and talks, is available at https://www.cni.org/about-cni/staff/clifford-a-lynch
Closing Plenary
Paul Evan Peters Memorial Lecture
Utopia for Networked Knowledge in the Library and the Academy
Paul Courant, University of Michigan
Tuesday, Dec.13, 2:15–3:30 pm ET
Suppose that pretty much everything that had ever been published was available on-line pretty much everywhere, and that the legal and technical environments were such that the works would continue to be available for the indefinite future — pretty much forever, on reasonable terms. In such a world it would of course be easy to create networks of knowledge using source material consisting of almost everything that was available almost everywhere. The animating question behind this discussion is simple: why have we been unable to organize libraries, universities, the publishing industry, and related institutions to create such rich networks, and what will it take to get there, or at least to get much closer?
Paul Courant was named the 2022 recipient of the Paul Evan Peters Award earlier this year, and his closing plenary is the Paul Evan Peters Memorial Lecture.
About the Speaker
Paul Courant is an economist; HathiTrust co-founder; and Edward M. Gramlich Distinguished University Professor Emeritus of Economics and Public Policy, Harold T. Shapiro Collegiate Professor Emeritus of Public Policy, Arthur F. Thurnau Professor Emeritus of Economics and Information at the University of Michigan. More about Paul is available in the Paul Evan Peters Award announcement.