CNI Fall 2020
Virtual Membership Meeting
December 14-15, 2020
#cni20f
---
Clifford Lynch, Coalition for Networked Information
Opening Plenary
December 14, 3-4:30 EST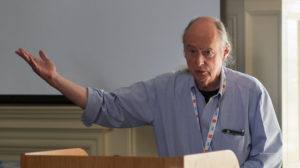 Clifford Lynch has led the Coalition for Networked Information (CNI) since 1997. He is both a past president and recipient of the Award of Merit of the American Society for Information Science, and a fellow of the American Association for the Advancement of Science and the National Information Standards Organization. His work has been recognized by the American Library Association's Lippincott Award, the EDUCAUSE Leadership Award in Public Policy and Practice, and the American Society for Engineering Education's Homer Bernhardt Award. In 2017, Lynch was selected as an Association for Computing Machinery (ACM) Fellow. He also serves as adjunct professor at Berkeley's School of Information.
---
Additional plenaries will be announced.
---
Code of Conduct
CNI is committed to maintaining a welcoming and inclusive environment for inquiry, constructive disagreement, and intellectual freedom and honesty. We do not tolerate personal attacks, harassment of any kind, violence, or disruptive behavior. Please be respectful of our community's diversity and generous of others' views. If you have concerns, please contact a member of the CNI staff.