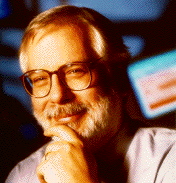 Paul Evan Peters (1947-1996), was founding executive director of the Coalition for Networked Information (CNI). Peters served as the head of CNI from March 1990 until his untimely death in November 1996. Highly respected in the library, information technology, and scholarly communities, he sought common ground for many constituencies in order to develop global networked information resources. A true imagineer, Peters's vision and his ability to pull people together to build new realities were unique. He led CNI through two cycles of formal evaluations by its sponsoring organizations and saw the Coalition become a thriving, ongoing enterprise.
Before founding the Coalition, Peters was Systems Coordinator at the New York Public Library from 1987 through 1989. He was Assistant University Librarian for Systems at Columbia University, where he also earned a master's degree in sociology in 1986. From 1970 to 1978 Peters was involved in a variety of research and development projects, and he earned a master's degree in library and information science at the University of Pittsburgh. Immediately following the completion of his undergraduate studies in computer science and philosophy at the University of Dayton in 1969, Peters worked briefly as a retail systems engineer for the National Cash Register Corporation. Peters was a president of the Library and Information Technology Association, a chair of the National Information Standards Organization, and served on the editorial boards of a number of journals. He also served on the Council of the American Library Association.
Peters was survived by his wife Rosemarie Kozdron, his parents Austin and Mary Peters, and his brother Philip Peters.
See also: