Paul Evan Peters Fellowship Recipient
2006-08:
BRYCE BENTON
UNIVERSITY OF NORTH TEXAS

---
Bryce Benton is the 2006 recipient of the Paul Evan Peters Fellowship for graduate study in the information sciences or librarianship. Mr. Benton is currently in the masters program at the University of North Texas School of Library & Information Sciences. The fellowship, which was established to honor the memory of CNI founding Executive Director, Paul Evan Peters, recognizes outstanding scholarship and intellectual rigor, and also civic responsibility, democratic values, and imagination.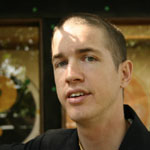 Mr. Benton has demonstrated his talents through participation in various challenging projects for which he has won accolades from faculty and colleagues. Most recently, as the technical lead for an institutional repository pilot project involving the DSpace open source system at the University of North Texas, Benton played a key role in the system installation, and he was also the developer behind the user-friendly interface for accessing the repository.
Open source systems are of particular interest to Benton: he is a collaborator on a project involving learning objects, as well as participating in the development of a framework for community collaboration among metadata professionals using the open source content management system Drupal. He has also been working on a pilot implementation of the Sakai online learning management system at the University of North Texas.
Described by his professors as personable, enthusiastic and as someone who possesses a "volunteering spirit," Benton has demonstrated himself to be committed to a greater good; he regularly offers his time and expertise to projects that might benefit from his experience. William Moen, Associate Professor in the School of Library and Information Sciences at the University of North Texas, comments, "as a research assistant and student, Bryce exhibits qualities of innovative thinking, collaborative engagement, eagerness to share his knowledge, and a talent for learning and adapting solutions to interesting projects. I think these are qualities Paul valued, and I think he would be pleased by the selection of Bryce as the recipient of this award offered in his name."
A five-member committee selected Mr. Benton for the award. The committee included James Mullins, Dean of Libraries at Purdue University, Althea Jenkins, recently retired Director of Libraries at Florida State University, Leslie Hitch, Director of Academic Technology Services at Northwestern University, and Joan Lippincott of the Coalition for Networked Information. "Through involvement with various projects including a metadata repository, Bryce Benton demonstrated his commitment to advancing access to information through creative and innovative applications of technology, that will ultimately enhance scholarship, intellectual productivity, and public life," stated committee member James Mullins.
About the Fellowship
The Paul Evan Peters Fellowship was established to honor and perpetuate the memory of the founding executive director of the Coalition for Networked Information. Funded by donations from colleagues, friends, and family, the fellowship provides a two-year award of $5000 per year to a student who demonstrates intellectual and personal qualities consistent with those of Peters, including:
— A commitment to the use of networked information and advanced technology to enhance scholarship, intellectual productivity and public life;
— An interest in the civic responsibilities of networked information professionals, and a commitment to democratic values and government accountability;
— A positive and creative approach to overcoming personal, technological, and bureaucratic challenges; and
— Humor, vision, humanity, and imagination.
Application information is available on online.
For more information, please contact:
Diane Goldenberg-Hart
Communications Coordinator
Coalition for Networked Information
21 Dupont Circle
Washington, DC 20036
diane@cni.org
202-296-5098