Paul Evan Peters Fellowship Recipients, 2022-24
Doctoral student Hugh Paterson III and master's student Jamie Flood are the 2022 recipients of the Paul Evan Peters Fellowship for graduate study in information sciences or closely related fields. The fellowship honors the memory of Coalition for Networked Information (CNI) founding executive director Paul Evan Peters; it recognizes outstanding scholarship and intellectual rigor, a commitment to civic responsibility and democratic values, and imagination.
"We had another great applicant pool this year, creating really difficult decisions for our jury, which has selected two wonderful awardees," said CNI executive director Clifford Lynch. "The aspirations and goals of Jamie and Hugh both honor Paul Peters's memory and, I think, resonate strongly with his visions of technology for social good."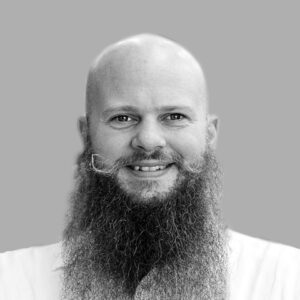 Hugh Paterson III will enter the PhD program in information science at the University of North Texas this fall. Paterson was selected, in part, for his commitment to making information resources in digital archives more accessible to underserved communities. In his PhD work, he plans to increase awareness of minority language resources by using machine learning and bibliographic records to detect and index resources about languages in creative new ways. "Hugh is passionate about creating positive connections in society both in digital forms and in real life. Minority languages are the glue of identity for many communities around the world. He understands the deep emotional connections that communities have to the languages they grew up speaking," wrote Jeremy Nordmoe, director of SIL International's Language and Culture Archives, in a letter of recommendation. While pursuing his linguistics master's degree, Paterson worked to create materials with members of endangered language communities in Nigeria and Mexico. He has worked to make those and other language materials more accessible to the communities they impact. He studied nonprofit management at the University of Oregon, Eugene, and holds an MA in linguistics from the University of North Dakota, Grand Forks, and a BA in German from Southern Illinois University Edwardsville. Learn more about Hugh's work in his project briefing video: Enriching Library and Archival Records with Ethnolinguistics Minority Language Identification.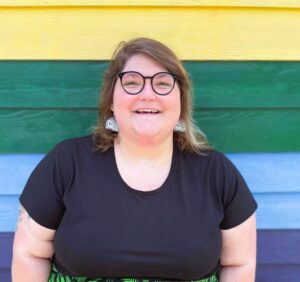 Jamie Flood is a student in the University of Illinois Urbana-Champaign Library and Information Science Program. An avid Wikipedian, Flood is currently an outreach and information specialist with the Agricultural Law Information Partnership at the USDA National Agricultural Library (NAL), where she contributes data to Wikipedia and organizes edit-a-thons. Her primary focus is adding content related to women and Black, Indigenous, and other people of color (BIPOC) in scientific fields, especially in the areas of property rights, food and nutrition equity, and farmland access. Kirstin Nelson, senior law librarian and Diversity and Inclusion Council executive director at NAL, wrote, "She intentionally seeks out the stories and images that highlight women and BIPOC people to help give a fuller narrative to science and stories around agriculture and agricultural law…She is brave and speaks up for inclusion and equity even when—especially when—it is hard and may carry consequences." Flood holds an MS from Auburn University's Department of Agricultural Economics and Rural Sociology and a BA in sociology and women's studies from Eastern Illinois University. Learn more about Jamie's work in her project briefing video: A Conversation with Paul Evan Peters Fellowship Recipient: Jamie Flood.
Selection committee members included: Kenning Arlitsch, dean, Library, Montana State University (through early August 2022); Alexia Hudson-Ward, associate director of Research and Learning, Libraries, Massachusetts Institute of Technology; Courtney Young, university librarian and professor in the Libraries, Colgate University; Diane Goldenberg-Hart, assistant executive director, CNI.
About the Fellowship
The Paul Evan Peters Fellowship was established to honor CNI's founding executive director. Funded by donations from Peters's colleagues, friends, and family, the fellowship provides two awards: one to a doctoral student in the amount of $5,000 per year, and one to a master's student in the amount of $2,500 per year. Fellowships are given to students who demonstrate qualities consistent with those of Peters, including:
Commitment to the use of digital information and advanced technology to enhance scholarship, intellectual productivity, and public life
Interest in the civic responsibilities of networked information professionals, and a commitment to democratic values and government accountability
Positive and creative approach to overcoming personal, technological, and bureaucratic challenges
Humor, vision, humanity, and imagination