Paul Evan Peters Fellowship Recipient
2004-2006:
PHILLIP M. EDWARDS
UNIVERSITY OF WASHINGTON

---
Phillip M. Edwards is the 2004 recipient of the Paul Evan Peters Fellowship for graduate study in the information sciences or librarianship. Mr. Edwards is currently in the doctoral program at the University of Washington's Information School, having completed his master's degree at Michigan in 2003. The fellowship, which was established to honor the memory of CNI founding Executive Director, Paul Evan Peters, recognizes outstanding scholarship and intellectual rigor, and also civic responsibility, democratic values, and imagination.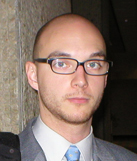 Mr. Edwards, whose primary area of interest is electronic reference services, gained first-hand experience implementing digital information access as a reference administrator at the University of Michigan's Internet Public Library, and, for a time, as the organization's interim User Services Coordinator. As a Ph.D. student, Edwards sees himself as a researcher and educator, exploring assessment models to identify efficient and cost-effective information delivery methods to diverse library communities, and committed to helping students build the necessary skills to implement strategies, and to adapt to novel situations.
The winner of the 2002 Virtual Reference Desk Conference Student Paper Competition, Edwards has already earned praise as an insightful and provocative researcher. Joseph Janes, Library and Information Science Chair at the University of Washington, says of Edwards that he "has the potential to make important intellectual and professional contributions and this fellowship will be of great help to him in reaching his goals."
A five-member committee selected Mr. Edwards for the award. The committee included Patricia Wand, University Librarian at American University, Christopher Peebles, Indiana University Professor of Anthropology, DeEtta Jones, Director of Organizational Learning Services at the Association of Research Libraries, and Clifford Lynch and Joan Lippincott of the Coalition for Networked Information. Peebles commented that Edwards "shares, with the late Paul Peters, a deep commitment to deliver information services of high quality and value to all segments of our society. I am delighted that Mr. Edwards will amplify and continue many elements of Paul Peter's vision for the effective management of libraries, their (necessarily limited) resources, and the knowledge that they conserve.
About the Fellowship
The Paul Evan Peters Fellowship was established to honor and perpetuate the memory of the founding executive director of the Coalition for Networked Information. Funded by donations from colleagues, friends, and family, the fellowship provides a two-year award of $5000 per year to a student who demonstrates intellectual and personal qualities consistent with those of Peters, including:
— A commitment to the use of networked information and advanced technology to enhance scholarship, intellectual productivity and public life;
— An interest in the civic responsibilities of networked information professionals, and a commitment to democratic values and government accountability;
— A positive and creative approach to overcoming personal, technological, and bureaucratic challenges; and
— Humor, vision, humanity, and imagination.
Application information is available on online.
For more information, please contact:
Diane Goldenberg-Hart
Communications Coordinator
Coalition for Networked Information
21 Dupont Circle
Washington, DC 20036
diane@cni.org
202-296-5098