Paul Evan Peters Fellowship Recipients, 2020-22
Jen Liu and Jake Tompkins
Doctoral student Jen Liu and master's student Jacob (Jake) Tompkins are the 2020 recipients of the Paul Evan Peters Fellowship for graduate study in library and information sciences. The fellowship was established to honor the memory of Coalition for Networked Information (CNI) founding Executive Director Paul Evan Peters; it recognizes outstanding scholarship and intellectual rigor, a commitment to civic responsibility and democratic values, and imagination.
Jen Liu is completing her second year in the PhD program in information science at Cornell University. She received a master's degree in tangible interaction design from Carnegie Mellon University and a BFA from the Maryland Institute College of Art. "The guiding tenet of my research," wrote Liu in her application essay, "is that a sustainable future is synonymous with an equitable future." She is using ethnographic fieldwork methods working with communities in the southeastern region of the U.S. along with co-design methodologies to engage with these communities to develop alternatives to "big" digital agriculture tools and technologies. Anticipated outcomes from her work will have direct implications for the design and development of future sustainable computing technologies by reframing how issues around social equity are fundamental to sustainability. "Jen Liu's research connects the fundamental role of the environment and an equitable and just future. Her creative and insightful approach engages communities that are often forgotten or marginalized in developing tools that address climate change in a meaningful and sustainable way," observed Krisellen Maloney, vice president for information services at Rutgers University, and a member of the fellowship selection committee. Steve Jackson, chair of Cornell's information science department, commented: "Jen is in the early stages of a research program that I believe will establish her as a major figure and leader in the information, computation and sustainability space."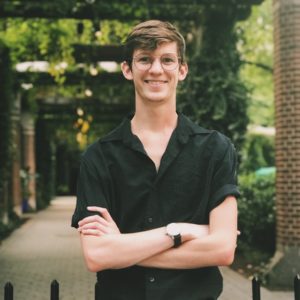 This year's recipient of the master's level fellowship, Jake Tompkins, is a student in the Master of Library and Information Science program at the University of California, Los Angeles (UCLA). He received a BS in actuarial science from Florida State University (FSU) and considers his formal training in mathematics and analysis important to his current interest, crisis informatics, in which information and communication technologies are used to respond to global emergencies. Tompkins is collaborating to develop a "rebel archive" that highlights the human rights contributions of incarcerated individuals and members of groups such as the Black Panthers and the California Coalition for Women Prisoners. He is also documenting their unlawful treatment, including the threat of COVID-19 in prisons, by helping to build a data dashboard that maps the number of COVID-19 cases and deaths in state and federal prisons across California as well as actions taken by prisoners (such as hunger strikes and other types of protests) in response to the lack of protection from the virus. In his application essay, Tompkins expressed the hope that this work will help elucidate "the historical and ongoing battle for human rights in the California prison system and demonstrate the lethal impacts this pandemic has had on vulnerable populations with limited agency to protect themselves." FSU Associate Dean Michael Meth wrote in his letter of recommendation that, "Jake is exactly the kind of person we ought to recruit into our profession and I expect great things from him in the future."
"These are superb choices from a very strong set of applicants; I continue to be deeply impressed by the wonderful range and diversity of their backgrounds, research and professional interests. I think that Paul would be both pleased and proud of these winners," affirmed CNI Executive Director Clifford Lynch.
Selection committee members included: Martin Kalfatovic, Associate Director, Smithsonian Libraries; Krisellen Maloney, Vice President for Information Services and University Librarian, Rutgers University; Janice Welburn, Dean of Libraries, Marquette University; Diane Goldenberg-Hart, Assistant Executive Director, CNI.
About the Fellowship
The Paul Evan Peters Fellowship was established to honor and perpetuate the memory of the founding executive director of the Coalition for Networked Information. Funded by donations from Peters's colleagues, friends, and family, in 2020, the fellowship provides two awards: one to a doctoral student in the amount of $5,000 per year, and one to a master's student in the amount of $2,500 per year. Fellowships are given to students who demonstrate intellectual and personal qualities consistent with those of Peters, including:
Commitment to the use of digital information and advanced technology to enhance scholarship, intellectual productivity, and public life
Interest in the civic responsibilities of networked information professionals, and a commitment to democratic values and government accountability
Positive and creative approach to overcoming personal, technological, and bureaucratic challenges
Humor, vision, humanity, and imagination.