CNI Fall 2018 Membership Meeting
December 10-11, 2018
Omni Shoreham Hotel, Washington, DC
#cni18f
---
Meeting Related Materials:
Interviews, Videos & Slides
---
Representatives from CNI member organizations gather twice annually to explore new technologies, content, and applications; to further collaboration; to analyze technology policy issues; and to catalyze the development and deployment of new projects. Each member organization may send two representatives. Anyone may propose a project briefing, including groups/individuals from non-member institutions and organizations.
Project briefings, 30-minute, 45-minute or one-hour sessions that allow participants to interact informally about projects, initiatives, and ideas of their own choosing, are the very heart of every membership meeting. Plenary sessions are held at the beginning and end of each meeting and include presentations of CNI's latest initiatives as well as insights from national and international leaders in the networked information community.
---
Please note that CNI has adopted a code of conduct for all meetings and events hosted by the Coalition:
CNI Code of Conduct
CNI is committed to maintaining a welcoming and inclusive environment for inquiry, constructive disagreement, and intellectual freedom and honesty. We do not tolerate personal attacks, harassment of any kind, violence, or disruptive behavior. Please be respectful of our community's diversity and generous of others' views. If you have concerns, please talk to a member of the CNI staff. In case of emergency, dial 911.
---
Plenary Speakers
---
Clifford Lynch, Coalition for Networked Information
Opening Plenary
Overview of the 2018-19 CNI Program Plan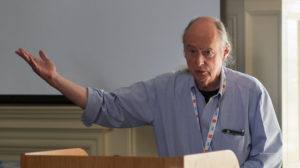 Clifford Lynch has led the Coalition for Networked Information (CNI) since 1997. He is both a past president and recipient of the Award of Merit of the American Society for Information Science, and a fellow of the American Association for the Advancement of Science and the National Information Standards Organization. In 2011 he was appointed co-chair of the National Academies Board on Research Data and Information; he serves on numerous advisory boards and visiting committees. His work has been recognized by the American Library Association's Lippincott Award, the EDUCAUSE Leadership Award in Public Policy and Practice, and the American Society for Engineering Education's Homer Bernhardt Award. In 2017, Lynch was selected as an Association for Computing Machinery (ACM) Fellow. He also serves as adjunct professor at Berkeley's School of Information.P
---
Patricia Flatley Brennan, US National Library of Medicine
Closing Plenary
Patricia Flatley Brennan is the Director of the National Library of Medicine (NLM), a component of the National Institutes of Health (NIH). Since assuming the directorship in August 2016, Dr. Brennan has positioned the Library to be the hub of data science at NIH and a national and international leader in the field. A past president of the American Medical Informatics Association, Dr. Brennan was elected to the Institute of Medicine of the National Academy of Sciences (now the National Academy of Medicine) in 2001. She is a fellow of the American Academy of Nursing, the American College of Medical Informatics, and the New York Academy of Medicine.