Welcome to the Fall 1996 Task Force Meeting Home Page
Project Briefings (Presentations)
Invitation and Message from CNI Executive Director Paul Evan Peters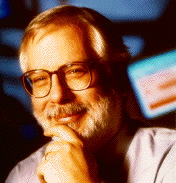 Paul Evan Peters
December 12, 1947 – November 18, 1996
Welcome to the Coalition for Networked Information Fall 1996 Conference information page. The Fall 1996 Task Force Meeting was held Friday, December 6 and concluded Saturday, December 7, 1996, at the Crowne Plaza Parc Fifty Five Hotel, San Francisco, CA.
The spectacular growth of networked information resources and services and the fundamental rethinking of how institutions are positioned, organized, and managed are two of the most powerful affecting the contemporary research and education community. If these two forces are to produce sustainable, extensible results, they must be held accountable to enterprise-wide as well as departmental goals and objectives. These forces and the enterprise-wide information strategies needed to marshall them successfully are the special focus of the Fall 1996 CNI Task Force Meeting.
The Coalition's Fall Task Force Meeting was held as planned in San Francisco, December 6 and 7, 1996. The meeting served as a tribute to Paul Evan Peters' leadership and commitment.
About the Meeting: Twice each year, representatives from the member organizations of the Coalition for Networked Information gather for Task Force Meetings. The meetings are designed to explore new technologies, content, and applications; to further collaboration; to analyze technology policy issues; and to catalyze the development and deployment of new projects.
Project Briefings are the heart of every Task Force Meeting. These briefings address state-of-the-art development and issues of interest to the membership, as outlined in each year's program plan. Architectures and standards, economic challenges, scholarly communication, digital libraries, middleware, and innovations in teaching and learning are topics that consistently engage CNI members' interests.