Beyond Tech: A Pedagogical Approach to Incorporating Digital Projects in the Classroom
Emily Sherwood is Director of the Digital Scholarship Lab at University of Rochester's River Campus Libraries. She is an alum of both the Council on Libraries and Information Resources (CLIR) Postdoctoral Fellowship Program and the EDUCAUSE/CLIR Leading Change Institute. As principal investigator for The New York Data Carpentries Library Consortium (NYDCLC) Planning Grant, Emily works with colleagues from Syracuse, Colgate, and Cornell to extend data literacy in central and western New York State. Her research interests include digital pedagogy, extended reality, and medieval and early modern marriage law.
Engaging the Individual: Innovative Learning in the 21st Century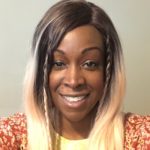 Damecia Donahue is a graduate of the School of Information Sciences at Wayne State University (WSU) in Detroit, Michigan. Prior to receiving her MLIS, she graduated at the Master of Arts level with concentrations in creative writing and technical communication. Her undergraduate work includes journalism, rhetoric, technology studies, and communication. She is a Librarian at WSU who focuses on exploring diverse new modes of service related to innovation, technology, creativity, individuality, and teaching and learning. This work is done through the Tech Bunker, an interdisciplinary lab developed in 2018 that functions as a hub for community "technology reference". In her spare time, she enjoys reading and writing sci-fi, horror movies, photography, mid-century building architecture, performance art and wig and outfit coordination.
Slides
Video:
Vimeo: https://vimeo.com/463228667
YouTube: https://youtu.be/3QtMC7UB0gA
Campus Discussion Questions
These questions are intended for use by committees, task forces, and planning groups that are considering a digital scholarship program, re-thinking an existing digital scholarship program, or augmenting an existing program. Individuals in the group can watch the recording of a webinar and then discuss these questions as a group. A set of questions will be available for each webinar.
What is your current program in teaching and learning related to digital scholarship? What types of formats do you offer (before and during the pandemic), which disciplines do you reach, and are your participants both undergraduate and graduate students? In what ways would you like to grow your program? In addition to digital scholarship staff, who else might become involved in the instructional program?
Do you have a program that would provide faculty with the perspectives and skills to incorporate digital scholarship assignments into their curriculum in collaboration with the library staff? If this would be desirable on your campus, what steps would you take to develop the program? Who would be involved? Do you think this type of program would help you develop a sustainable educational program?
Are community educational programs a priority at your institution? Which groups might you work with, e.g. schools, makers. How would you begin to reach out to those sectors?