CNI Fall 2021 Membership Meeting
Virtual: December 7-9, 2021
In-Person: December 13-14, 2021
JW Marriott Hotel, Washington, DC
#cni21f
---
Opening Plenary: COVID and the Evolving Innovation Landscape
Clifford Lynch
Monday, Dec. 13, 2021, 1:00pm ET
CNI Executive Director Clifford Lynch will present the traditional December plenary, looking at developments over the past year, discussing emerging issues and highlighting CNI's strategies and priorities in 2022 and beyond. The session will include time for questions and conversation.
About the Speaker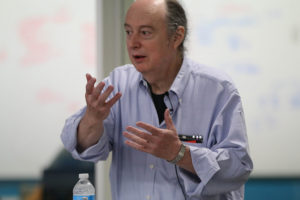 Clifford Lynch is Executive Director at the Coalition for Networked Information. He is both a past president and recipient of the Award of Merit of the American Society for Information Science (now ASIS&T), and a fellow of the American Association for the Advancement of Science and the National Information Standards Organization. His work has been recognized by the American Library Association's Lippincott Award, the EDUCAUSE Leadership Award in Public Policy and Practice, and the American Society for Engineering Education's Homer Bernhardt Award. In 2017, Lynch was selected as an Association for Computing Machinery (ACM) Fellow. More about Lynch, including links to publications and talks, is available at https://www.cni.org/about-cni/staff/clifford-a-lynch.
---
Invited Session
LEADING to Data Science in Libraries
Monday, Dec. 13, 2021, 5:15pm ET
Fellows:
Lencia Beltran
MLIS, Archival Studies, Emporia State University
LEADING Site: AI-Collaboratory, University of Maryland iSchool
HyunSeung Koh
Assessment Librarian and Assistant Professor of Library Services, University of Northern Iowa Library
LEADING Site: Digital Scholarship, Tisch Library, Tufts University
Emily Ping O'Brien
Digital Repository and Metadata Librarian, Worcester Polytechnic Institute
LEADING Site: AI-Collaboratory, University of Maryland iSchool
Jennifer Proctor
PhD Student, University of Maryland iSchool
LEADING Site: OCLC
Jonathan Young
Science and Technology Reference Librarian II, Hamilton Library, University of Hawaii at Manoa
LEADING Site: Montana State University Library
Jay Winkler
Assistant Archivist, ICPSR, University of Michigan
LEADING Site: Loretta C. Duckworth Scholars Studio, Temple University Libraries
Principal Investigators:
Jane Greenberg, Drexel University
Kenning Arlitsch, Montana State University
Erik Mitchell, University of California, San Diego
The Library and Information Sciences (LIS) Education and Data Science Integrated Network Group (LEADING) is an Institute of Museum and Library Sciences (IMLS)-funded project that aims to prepare a diverse, nation-wide cohort of LIS doctoral students and mid-career librarians for data science endeavors. Twenty-four fellows comprise the current cohort, along with mentors who are affiliated with one of three hubs: Drexel University, Montana State University, and the University of California-San Diego. OCLC provides educational support and outreach. This session will describe the genesis and structure of the LEADING project and will feature fellows who will give brief summaries of their data science projects. Read more about the project.
---
Closing Plenary
Carnegie Mellon University's Cloud Lab Project
Tuesday, Dec. 14, 2021, 2:15pm ET
Rebecca W. Doerge, Dean of Science, Carnegie Mellon University
Brian Frezza, Co-founder and Co-CEO, Emerald Cloud Lab
Keith Webster, Dean of University Libraries, Carnegie Mellon University
A team from Carnegie Mellon University and Emerald Cloud Lab will share their experiences exploring new strategic approaches to supporting scientific research through highly automated network-based shared instrumentation facilities, including consideration of the implications for research data management and reproducibility.
Read more about the project in the Wall Street Journal.