Facilities as Accelerators for Digital Scholarship
Greg Raschke is the Senior Vice Provost and Director of Libraries at NC State where he leads a system comprised of two main libraries, three branches, and over two hundred FTE staff.  He leads partnerships and strategic efforts in pursuit of its vision – to make the Libraries NC State's competitive advantage.  He served for over a decade as the Associate Director for Collections and Scholarly Communication with the Libraries where he led programs to build, manage, and preserve the Libraries' extensive general and special collections.  Greg served on the leadership team that envisioned, planned, and implemented the award winning James B. Hunt Jr. Library.  He has significant experience managing fundraising, annual giving, and naming opportunity campaigns.  
Flexibility in Design: Anticipating That Your Space, Priorities, and Program Will Change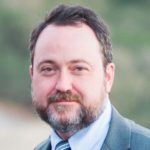 At Georgia State University Library, Bryan Sinclair (http://bryansinclair.org) provides leadership in multiple innovative service areas, including campus outreach and instruction, research data services, access and media services, and student technology support. Notable accomplishments include serving as project lead on CURVE: Collaborative University Research & Visualization Environment, a unique, technology-rich discovery space within the University Library supporting digital scholarship and visual research, and expanding the library's focus on data support and literacy through the formation of the Research Data Services Team. His interests include developing collaborative research spaces, promoting new forms of digital scholarship, and exploring entrepreneurial roles for librarians as information and data consultants.