Facilities as Accelerators for Digital Scholarship
Greg Raschke is the Senior Vice Provost and Director of Libraries at NC State where he leads a system comprised of two main libraries, three branches, and over two hundred FTE staff.  He leads partnerships and strategic efforts in pursuit of its vision – to make the Libraries NC State's competitive advantage.  He served for over a decade as the Associate Director for Collections and Scholarly Communication with the Libraries where he led programs to build, manage, and preserve the Libraries' extensive general and special collections.  Greg served on the leadership team that envisioned, planned, and implemented the award winning James B. Hunt Jr. Library.  He has significant experience managing fundraising, annual giving, and naming opportunity campaigns.
Slides
Flexibility in Design: Anticipating That Your Space, Priorities, and Program Will Change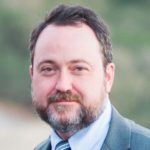 At Georgia State University Library, Bryan Sinclair (http://bryansinclair.org) provides leadership in multiple innovative service areas, including campus outreach and instruction, research data services, access and media services, and student technology support. Notable accomplishments include serving as project lead on CURVE: Collaborative University Research & Visualization Environment, a unique, technology-rich discovery space within the University Library supporting digital scholarship and visual research, and expanding the library's focus on data support and literacy through the formation of the Research Data Services Team. His interests include developing collaborative research spaces, promoting new forms of digital scholarship, and exploring entrepreneurial roles for librarians as information and data consultants.
Slides
Video
Vimeo: https://vimeo.com/465673816
YouTube: https://youtu.be/0ANEzTWgN84
Campus Discussion Questions
These questions are intended for use by committees, task forces, and planning groups that are considering a digital scholarship program, re-thinking an existing digital scholarship program, or augmenting an existing program. Individuals in the group can watch the recording of a webinar and then discuss these questions as a group. A set of questions will be available for each webinar.
Before the pandemic, what spaces in your library were being used for digital scholarship programming, e.g. consultation spaces, collaborative work spaces, spaces with specialized equipment and screens, workshop spaces? What worked well with those spaces and what could be changed post-pandemic? What needs to be added?
How does the range and variety of spaces and programmatic activities fit with spaces and programs across campus? Is there any planning or service coordination?
In planning new spaces and their affiliated programs, e.g. a data science initiative, are you also making plans to have the staff expertise needed available?
Have you considered whether you want to be reactive or proactive in offering spaces with new technologies and affiliated services? Will the role of the library be provider of services, collaborator, or an entity that expands the idea of the possible?
Is your library currently providing a showcase for student and faculty digital scholarship projects? If not, how might you do this when facilities re-open?