CNI Fall 2022 Membership Meeting
December 12-13, 2022
JW Marriott Hotel, Washington, DC
#CNI22f
---
The membership meeting will be held at the JW Marriott Hotel in Washington, DC, beginning on Monday, Dec. 12 at 1:15 PM and adjourning at 3:30 PM on Tuesday, Dec. 13. 
Registration
Member representatives were sent registration information (via email) for the Fall 2022 Membership Meeting in early September. If you have not received the information please contact Jackie Eudell.
Deadlines
Project Briefing Proposals

: October 10, 2022

Hotel

: November 14, 2022

Registration

: November 14, 2022

Vaccine Verification Process Complete

: December 6, 2022
Who may attend?
Meeting attendance is limited: each member organization is allowed two representatives. If individuals from your member organization will be presenters in sessions at the meeting, they may attend in addition to the two representatives per member organization. Please note, we will not accommodate on-site registration this year. Speakers and attendees must register in advance (by November 14th). Registration information will be sent by email by late September.

Venue
JW Marriott Hotel, 1331 Pennsylvania Avenue NW, Washington, DC
Phone: 800-393-2503 (identity yourself as an attendee for the CNI Fall Membership Meeting)
Room Rate: Single/double: $204
CNI guests may reserve accommodations by phone or online at
https://book.passkey.com/e/50312228

Transportation Information:
Valet parking at the hotel: $63.00
Taxi from DCA: $20-$25
Subway: Silver/Red/Orange/Blue Line to Metro Center
Approximately three blocks to the hotel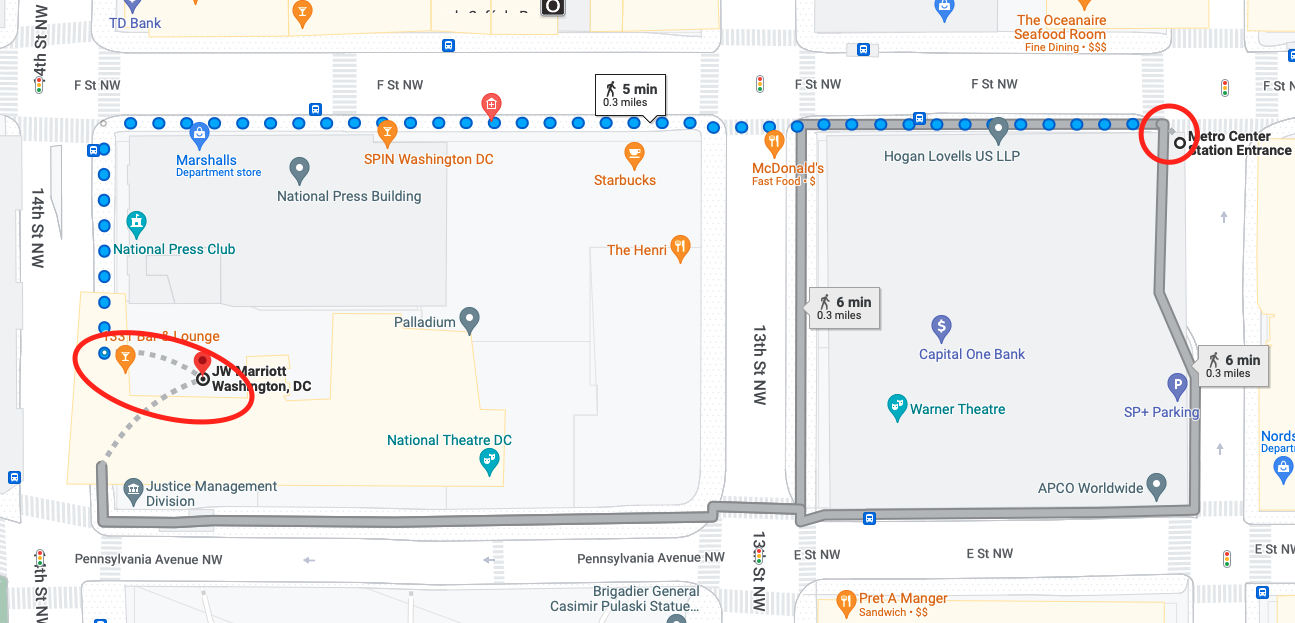 Reservation Cancellation:
The deadline to cancel room reservations without penalty is 72 hours prior to the day of arrival, local hotel time.
Further Information
If you have any questions, including registration cancellation, please contact Jackie Eudell (jackie@cni.org, 202-296-5098).
---
Code of Conduct
CNI is committed to maintaining a welcoming and inclusive environment for inquiry, constructive disagreement, and intellectual freedom and honesty. We do not tolerate personal attacks, harassment of any kind, violence, or disruptive behavior. Please be respectful of our community's diversity and generous of others' views. If you have concerns, please contact a member of the CNI staff.