CNI Fall 2019 Membership Meeting
December 9-10, 2019 | Omni Shoreham Hotel, Washington, DC
---
Kate Eichhorn
Associate Professor of Culture and Media Studies
The New School
Opening Plenary
Monday, Dec. 9, 2019
Fall 2019 Opening Plenary Session
A Farewell to Joan Lippincott, and
"A Fragmented Landscape, Collaborations Refreshed, and CNI's 2019-20 Program" by CNI Executive Director Clifford Lynch
Every year at the fall membership meeting CNI releases a new program plan, which is a snapshot of our plans and priorities for the year as of early November. The plan discusses program initiatives planned for the year (July 1-June 30). The current year's program plan is available at https://www.cni.org/program.
About the Speaker
Clifford Lynch is Executive Director at the Coalition for Networked Information. He is both a past president and recipient of the Award of Merit of the American Society for Information Science (now ASIS&T), and a fellow of the American Association for the Advancement of Science and the National Information Standards Organization. His work has been recognized by the American Library Association's Lippincott Award, the EDUCAUSE Leadership Award in Public Policy and Practice, and the American Society for Engineering Education's Homer Bernhardt Award. In 2017, Lynch was selected as an Association for Computing Machinery (ACM) Fellow. More about Lynch, including links to publications and talks, is available at https://www.cni.org/about-cni/staff/clifford-a-lynch.
---
Closing Plenary
Tuesday, Dec. 10, 2019
KATE EICHHORN
Associate Professor of Culture and Media Studies
The New School
Forgetting and Being Forgotten:
Growing Up in a Digital Era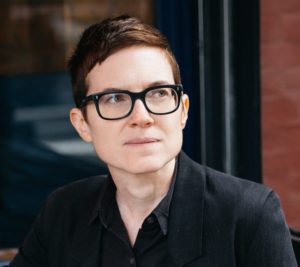 A convergence of technological and economic changes has eroded our ability to forget and be forgotten by others. For children and youth, this reversal has also resulted in a series of high-stakes tradeoffs. While young people have finally gained access to the media technologies needed to represent their lives and broadcast these representations on a wide scale, in the process, their ability to take risks without consequence and to carefully curate which memories they carry forward into adulthood has been compromised. This talk explores the decline of forgetting and its impact on social identity development, paying specific attention to the impact this shift will have on young people who have historically had the most to gain from the freedom associated with forgetting and being forgotten.
About the Speaker
Kate Eichhorn has spent the past two decades researching the impact of new media technologies on youth cultures, subcultures, and social movements. Her most recent book, The End of Forgetting: Growing Up with Social Media, published by Harvard University Press in 2019, examines the impact of social media platforms on identity development, reputation management, and memory. Her previous books include Adjusted Margin (MIT, 2016) and The Archival Turn in Feminism (Temple University Press, 2013). Eichhorn is Associate Professor and Director of Culture and Media Studies at The New School University in New York City.