Supporting Humanities and Social Science Digital Research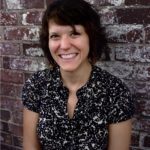 Liz Milewicz heads the Digital Scholarship & Publishing Services department and co-directs ScholarWorks: A Center for Scholarly Publishing at Duke University Libraries. Her team, including interns from regional library school programs and Duke graduate students, partners with the Duke community on digital research, teaching, and publishing projects (http://library.duke.edu/digital) and provides training and consulting in digital approaches to scholarship. She helped to plan and launch The Edge: The Ruppert Commons for Research, Technology, and Collaboration (http://library.duke.edu/edge), a space for project teams to pursue interdisciplinary, data-driven, and digitally reliant research. Currently Liz co-leads Project Vox (http://projectvox.org), a digital publication and educational initiative that seeks to reform and diversify philosophy instruction. In 2019 Liz took on co-directorship of ScholarWorks (http://scholarworks.duke.edu), a collaborative center for supporting open, fair, and sustainable publishing.
Before coming to Duke in 2011, Liz managed two NEH-funded digital humanities projects at Emory University (The Expanded Online Transatlantic Slave Trade Database, http://slavevoyages.org; and African Origins, http://african-origins.org) and worked with the Emory Libraries on a range of digital library initiatives, including a cross-institutional effort to create openly searchable records of archival holdings.
Partnerships & Challenges for Sustained Research & Data Services
Amy Koshoffer is the Assistant Director for Research and Data Services, and co-lead of the RDS Team at UC Libraries, University of Cincinnati. She oversees the strategic direction of the Research Labs @ GMP and the UC Libraries Research and Data Services Team and supports research data management, open science, and GIS services and education initiatives.  She was a UCGIS 2019 TRELIS fellow, and an author on the Data Curation Network confocal microscopy primer.