OPENING PLENARY
Monday — 1:00 p.m. to 2:00 p.m.
Providing Universal Access to Modern Materials
–and Living to Tell the Tale
Brewster Kahle

Digital Librarian and Founder
Internet Archive
The Internet Archive started by archiving the Web, but now works with hundreds of librarians and partners to create digital collections both centralized and distributed. The challenges of presenting modern materials yield different solutions for each media type. Kahle will share his vision of how cooperation, shared technology and risk can result in many winners in the digital library world.
About the Speaker
A passionate advocate for Open Internet access and a successful entrepreneur, Brewster Kahle has spent his career intent on a singular focus: providing Universal Access to All Knowledge. Since the mid-1980s, Kahle has focused on developing technologies for information discovery and digital libraries. In 1989 Kahle invented the Internet's first publishing system, WAIS (Wide Area Information Server) system and in 1989, founded WAIS Inc., a pioneering electronic publishing company that was sold to America Online in 1995. In 1996, Kahle founded the Internet Archive, one of the largest digital libraries in the world. At the same time, he co-founded Alexa Internet which helps catalog the Web and sold it to Amazon.com in 1999.
Kahle earned a B.S. from the Massachusetts Institute of Technology (MIT) in 1982. As a student, he studied artificial intelligence with W. Daniel Hillis and Marvin Minsky. In 1983, Kahle helped start Thinking Machines, a parallel supercomputer maker, serving there as a lead engineer for six years. Mr. Kahle is a Fellow of the American Academy of Arts and Sciences, a member of the National Academy of Engineering, and the Internet Hall of Fame; he serves on the boards of the Electronic Frontier Foundation, Public Knowledge, the European Archive, the Television Archive, and the Internet Archive.
---
CLOSING PLENARY
Tuesday — 2:15 p.m. to 3:30 p.m.
Realizing the Potential of Research Data
Carole L. Palmer
Professor, Associate Dean for Research
Information School
University of Washington
Efforts to harness and exploit digital research data have proliferated at a dizzying pace. We have an abundance of reports by federal agencies on data, cyberinfrastructure, and e-science, and are experiencing rampant growth in data repositories and archives. New professional groups and meetings regularly emerge and overlap, while some formal academic programs and continuing education options for data professionals become established. Informatics is becoming a familiar mode of inquiry in nearly all fields of study. As the discourse on big data and data science continues to get wider and louder, expectations for data sharing and cross-disciplinary access and use intensify. Yet, our base of fundamental knowledge on data is, at best, nascent and scattered. To achieve the envisioned potential of science with data, we need to invest in the science of data. Drawing on my experience with several research and education initiatives in data curation, I will discuss factors that make data valuable and sharable within and across research cultures, and the changing demands for data curation expertise and responsibility in research libraries, data centers, universities, and the corporate sector. With data as the object of study and focus of education, we can move toward coherent centers of excellence in data resources and services and gain a better return on our investment in the promise of abundant data.
About the speaker: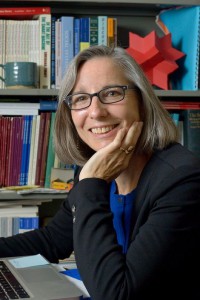 Carole Palmer is Professor and incoming Associate Dean for Research in the Information School, and affiliate faculty of the eScience Institute, at the University of Washington. Her work focuses on data curation and digital research collections for interdisciplinary science and scholarship. She has been a leader in professional workforce development in data curation for nearly a decade. Her current research examines how to optimize the reuse value of data and develop rich, functional cross-disciplinary data collections. She leads the Site Based Data Curation project, developing a framework for reusable data from scientifically significant sites, and Data Curation Education in Research Centers, developing a model for master's and doctoral education through exchange of expertise between information schools and premier data and research centers. Dr. Palmer received the Information Science Teacher of the Year Award from the Association for Information Science & Technology in 2013. Her professional activities include membership on the Technical Advisory Board of the Research Data Alliance, the advisory board of the CLIR, Data Curation Post-Doctoral Fellowships program, the Technical Advisory Committee of the Digital Public Library of America, and prior membership on National Academies study committees on digital curation and cyberinfrastructure. Before joining the Information School at the University of Washington in 2014, she was Director of the Center for Informatics Research in Science & Scholarship in the Graduate School of Library and Information Science at the University of Illinois.
https://ischool.uw.edu/people/faculty/clpalmer